08/11/2010
New Electric Airless Paint Sprayers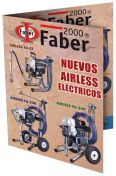 Our Airless paint sprayers are designed specifically for paint professionals. Their electric pressure control system facilitates perfect atomization for any application (latex paint, varnishes, lacquer, enamels, etc.).

The sprayer's manifold filter is exposed and therefore easy to change and clean. All aspects of the sprayer were designed carefully to facilitate comfortable, speedy maintenance and cleaning.
These features combine to produce consistently professional results.